New Bedding, Lamp and Artwork gives it an instant Guest Bedroom Update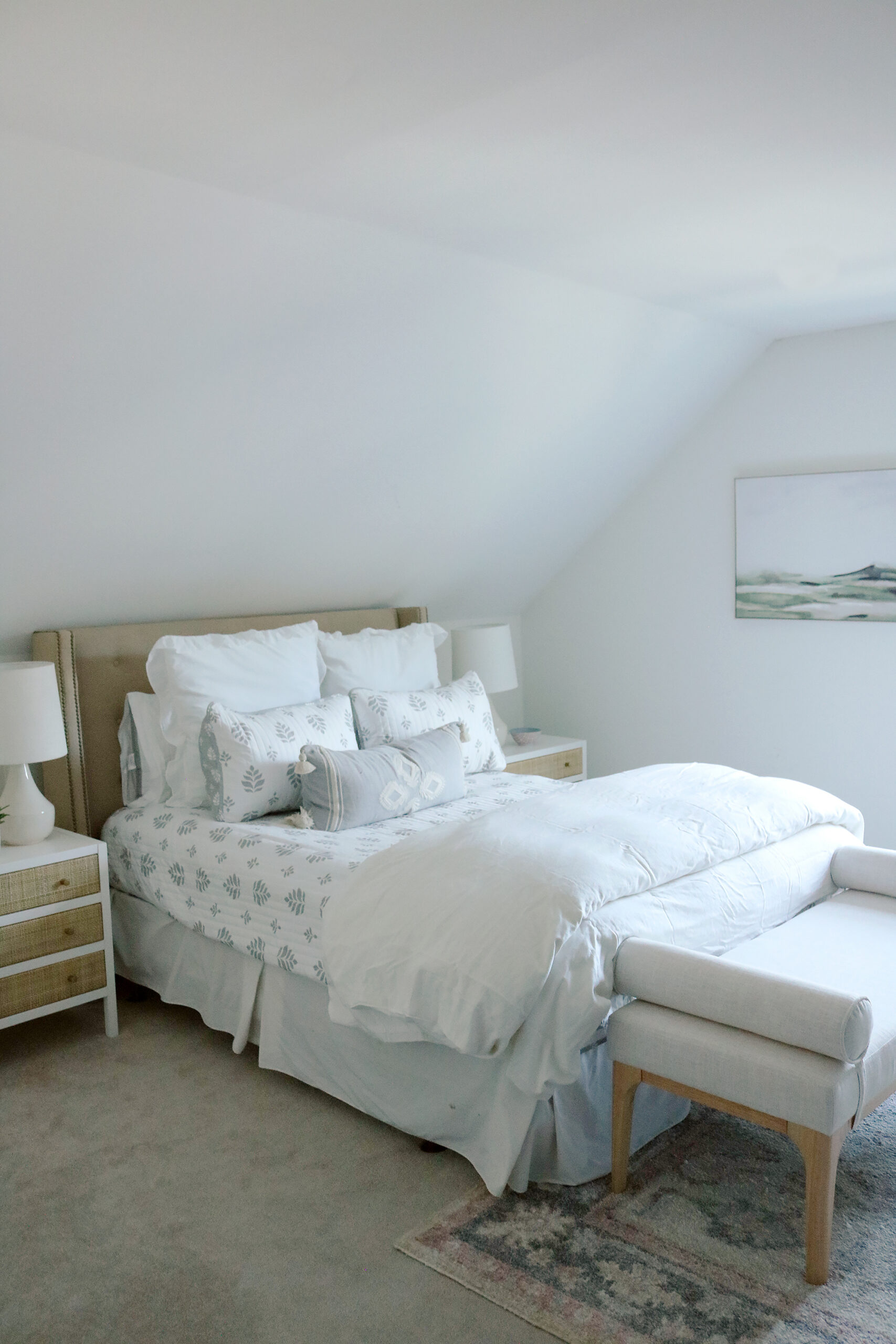 Our guest bedroom has been the bedroom with the leftover furniture or furniture we don't use anymore. Any old furniture piece that we swap out, we usually throw it in our guest bedroom. Needless to say, our guest bedroom has been become a hodgepodge of random furniture pieces. Well I finally went in and gave it a budget-friendly guest bedroom update. We had a couple guests come and stay in the room, so it was a good time to do just that. I didn't want to spend a lot of money because we are hoping to rip out the carpet and put in hardwood floors and then give it a fresh coat of paint. This guest bedroom is also located in our third floor attic. We haven't done much to our attic. It is finished and added space. We have the bedroom, a full bath and a really spacious living room area. My renovation list is to rip out the old carpet and put in hardwood floors, update the bathroom and put in built-in bookshelf/desk area. Hopefully one day! In the meantime I do a few instant guest bedroom updates.
Check out these other guest bedroom posts: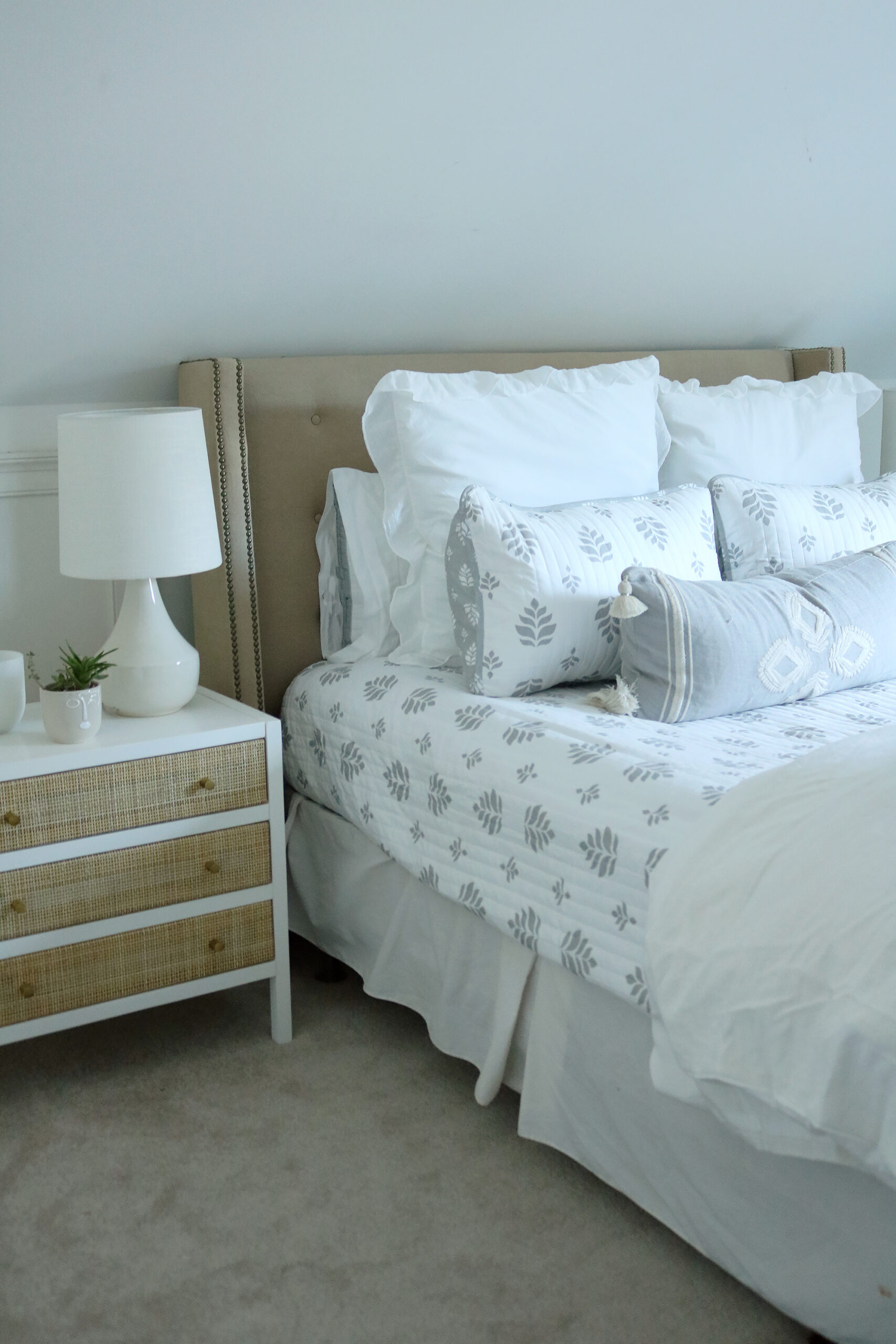 Update Bedding Linens
One of the first things I did was update the bedding linens with brand new sheets, coverlet and duvet cover. I also bought new pillows. Our old pillows were stained and flat and mismatched. A new set instantly brings a clean and plush look to the bed.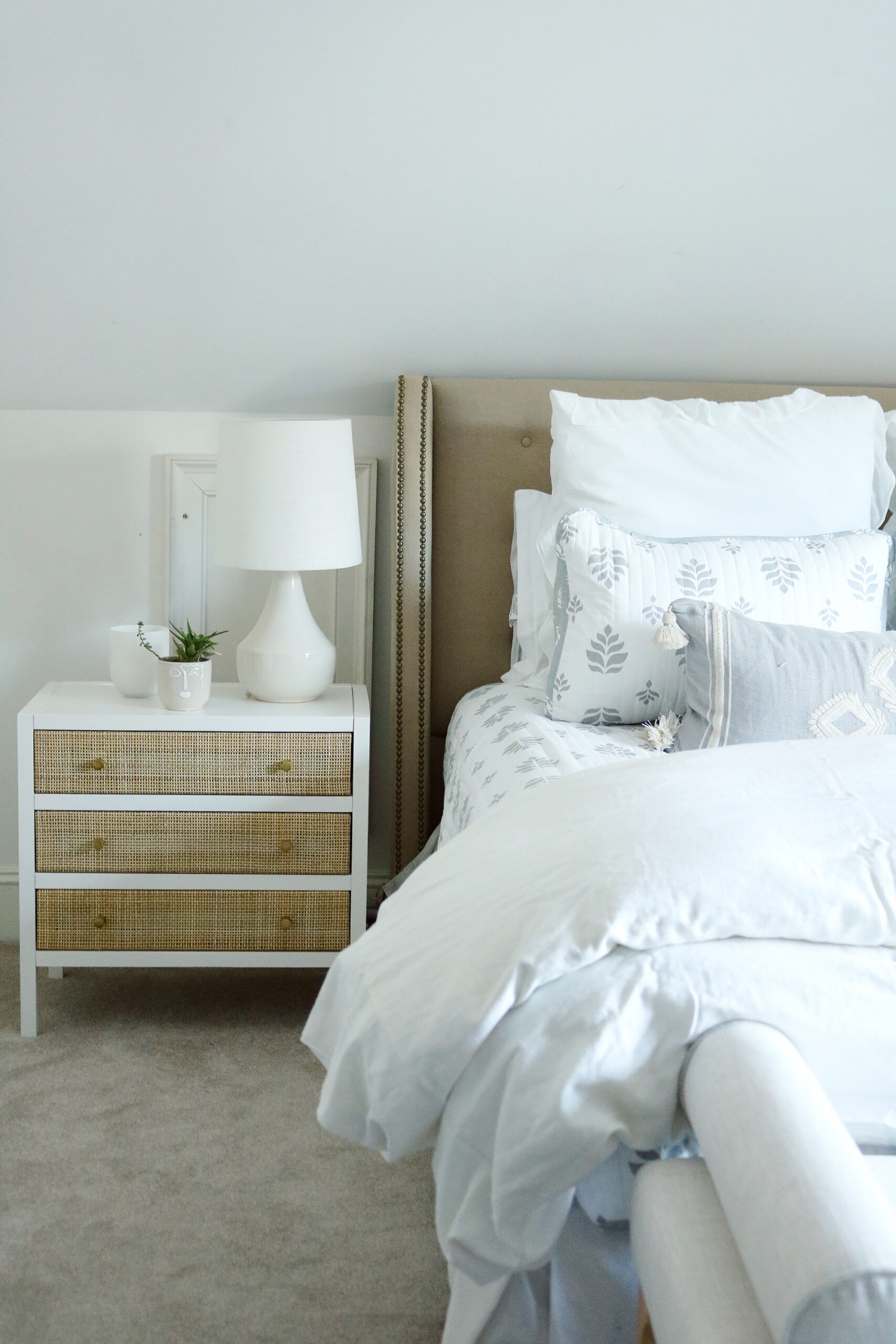 Add Stylish Nightstands
Okay so our bed frame is actually quite old. We probably need to get a new bed frame, but I wanted to keep this guest bedroom update in a tight budget. So, I decide to buy stylish nightstands instead. These nightstands stand out and give the whole room a new look. These nightstands were only $200 each! You do have to put them together but overall I am so impressed with the quality. I've linked other nightstands that are under $200.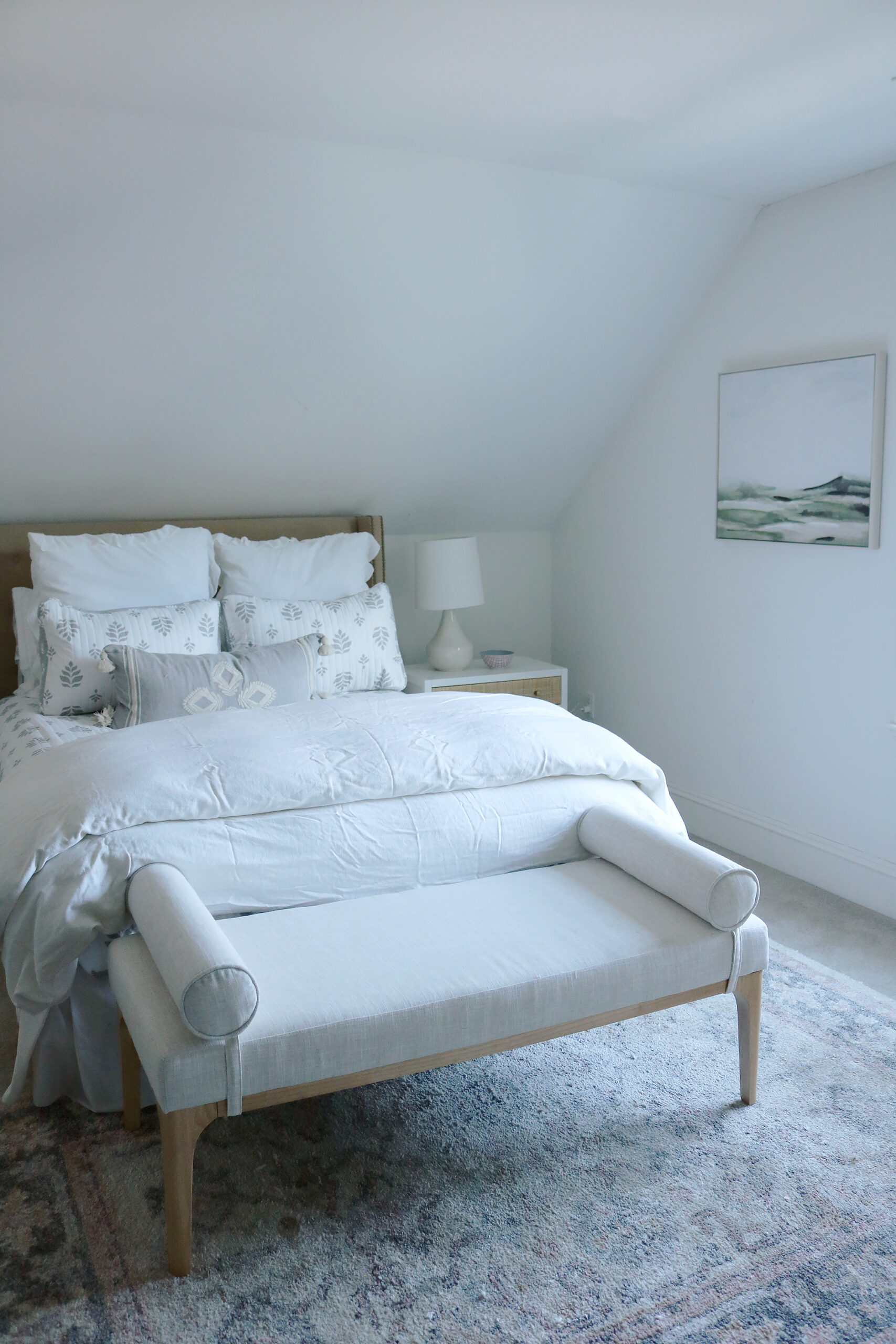 New Artwork
This also does not need to be expensive. You can even make your own artwork. But new artwork is a great way to update any room. Also in a guest bedroom, it is better to keep the room simple, clean and free of too many artwork or things hanging on the wall. Remember this is a room for your guests. Keep it calm and simplified.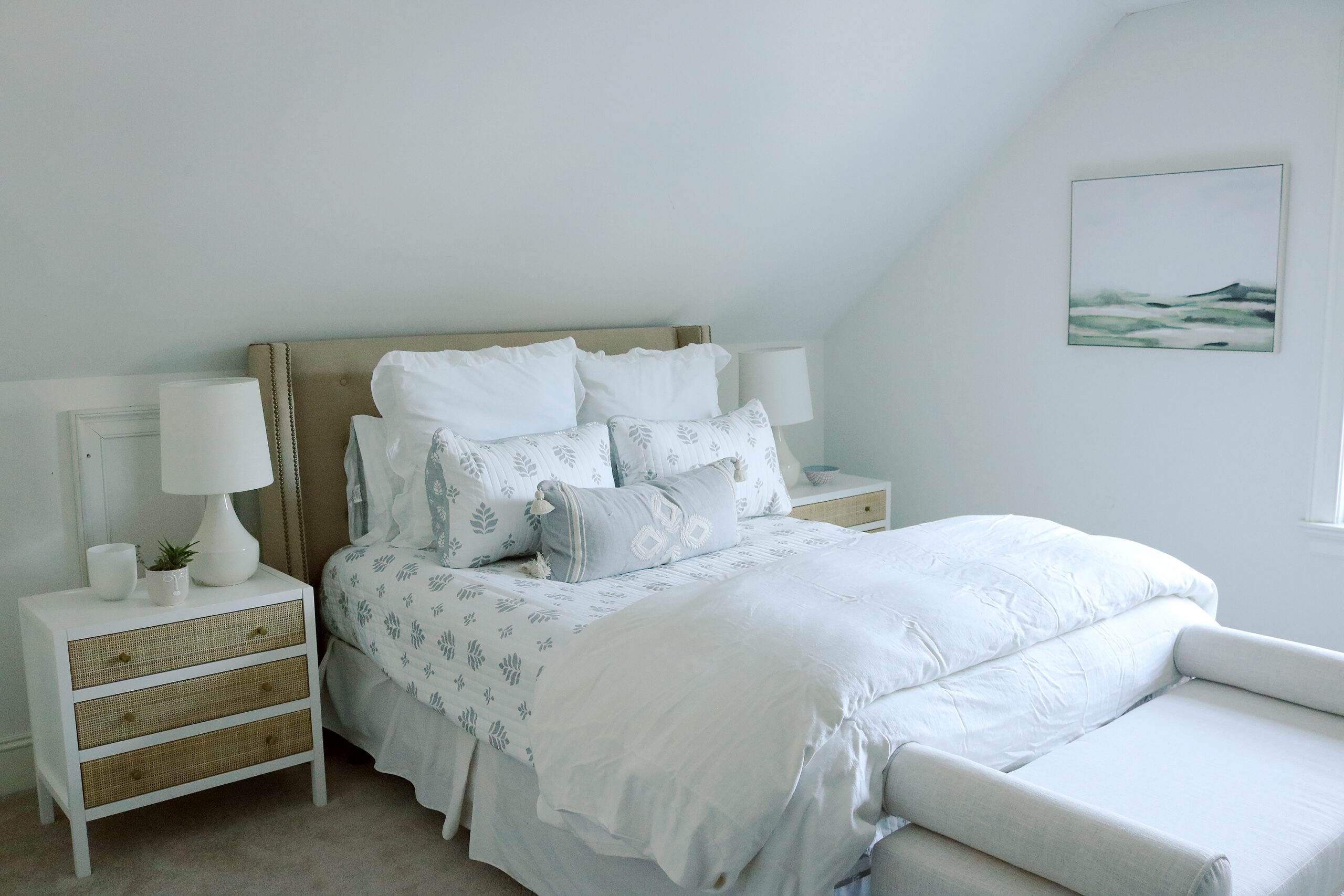 Add a Bedside Plant
Adding some greenery and life to a guest bedroom is a great way to welcome your guest. I like to get house plants that are drought-tolerant plants so I don't have to water them often! You can put faux plants, which I have in some areas of my home. Since guests will be staying in the room, I like to keep it real!
The post Guest Bedroom Update appeared first on Darling Darleen | A Lifestyle Design Blog.