I've got an awesome giveaway that will keep your motivated throughout the holiday season.  Or get you back on your feet eating healthy and losing weight after the holiday season…if you choose to indulge in all the holiday yummies.  I've teamed up with Fit Mama of 6, who is a coach for Beachbody, for a Motivate Yourself Giveaway (#motivateyourselfgiveaway).  The giveaway is mostly on instagram, but comments on my blog, facebook page likes and facebook shared pages is also included in the giveaway.  Also, if you share the giveaway on your blog, please let me know!  The package deal is AWESOME and a $400 value! If you know any of the Beachbody products then you will be all over the goodies that are included in this giveaway.  I'm a huge fan and have done the Ultimate Reset a few times and LOVE Shakeology.  Best protein shake!
The giveaway includes the
Ultimate Reset
,
Shakeology
and my
new Motivate Bangles
to help remind you to stay focus on your goals.  If you don't know what the Ultimate Reset is or Shakeology, head to
Fit Mama of 6
where Christine talks all about the products.  She can also answer any questions you may have about the product!
So here's the deal, leave a comment here for entry.  Follow my jewelry IG account (@darleenmeierjewelry) and Fit Mama of 6 (@fitmamaof6).  Tag up to 5 friends a day to get multiple entries and also share on your Facebook page.  More details on Instagram.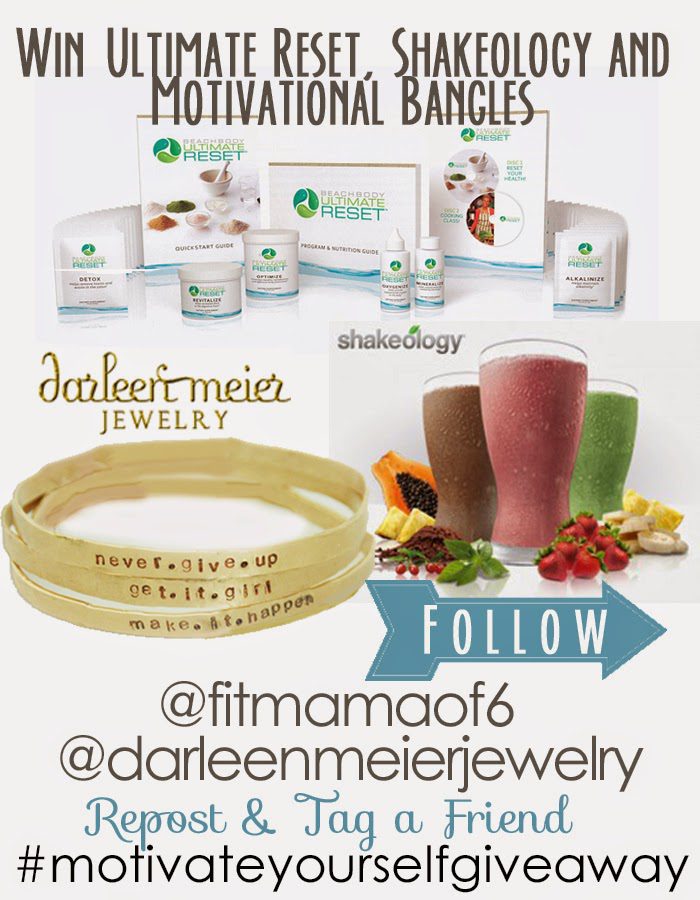 The post Motivate Yourself Giveaway appeared first on Darling Darleen | A Lifestyle Design Blog.