My Stella is not a baby anymore. She is now four. A young little girl. We always say that four is the age you start acting like a big kid for example washing your body, wiping your behind (ahem), making your bed–just to name a few. Well, this year Stella was in on the action for planning her birthday party. And she wanted it to be just like her cousin Nora's recent birthday party–all princess. She even wanted her princess birthday cake to be holding candles just like Nora's cake. And for all the guest to come dressed in princess (prince) attire. Well, her party was a huge success, eventhough it ended up being held inside instead of the original plan of being outside. Rain was the cause of the minor change. I just made sure to set rules and keep a tight ship with 14 kids running around my house.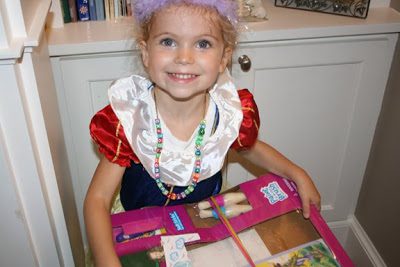 Invitations mailed out with a look-alike Stella princess on the front.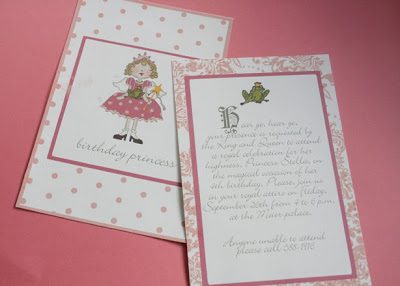 Decorations–I got purple and pink balloons and picked up one of Martha Stewart's paper flower kits to hang from the chandelier. All the paper products were purple and pink. Each princess received a tiara and wand when they entered the "palace". And each prince received a crown and sword.
Food–I served pizza and strawberries (Stella's favorite fruit) along with pink lemonade and fruit punch in plastic champagne glasses.
Favors–all things princesses for the girls in little pink organza bags along with rock-pop rings. The boys got to take home a knight-helmet piggy bank that I found in the dollar section of Target.
Stella's Snow White birthday cake. It came out so beautiful! I picked it up a day in advance and the cake lady told me to put it in the freezer and take it out a couple of hours before the party. Bad idea. The frosting started to melt. Refriderate next time.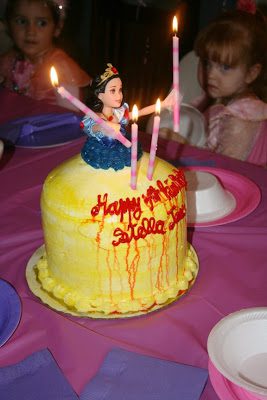 Activities–all the princesses made necklaces with sparkly beads. And the princes decorated paper shields. But the girls were more into the shields than the boys. Opening the gifts, of course, were part of the party.
Toward the end of the party a famous princess made a surprise visit–Miss Cinderella. She was quite the center of attention and had all the children participate in a mini ball. The children danced to the story of Cinderella pretending to be the birds, the mice, the pumpkin, the stepsisters, etc. After the dancing, each child got to have their picture taken with her.
Well, I know it's a success when my daughter tells me it was the best birthday party ever. The end.
The post Princess Party appeared first on Darling Darleen | A Lifestyle Design Blog.