This post is sponsored by Acqua Panna® & S.Pellegrino®, but the comments and opinions are my own.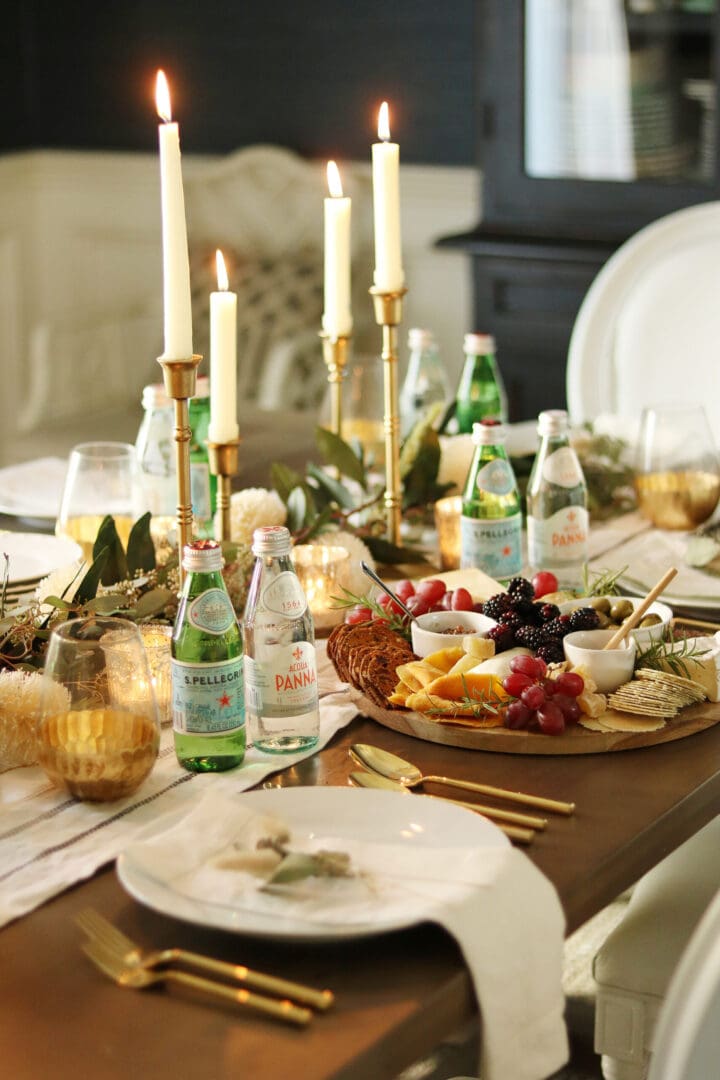 I have hosted quite a number of dinner parties in my adult life. Whether it be with a few girlfriends over for lunch, a birthday party, or a family gathering, I have learned that there are a few tricks to being a good entertainer and hostess that will set you apart from the rest- even if it is just your immediate family around the table this year. Little details can make a big difference! I decided I'd share 5 details to keep in mind for when you want to make your family dinner feel more special for the holidays.  
5 Ways to Bring the Restaurant Experience to Your Home 
1.    Offer Your Family Both Still and Sparkling Water
Of course, you are going to offer water, but what if instead of offering your kids and significant other water from the fridge or sink, you instead offer them the choice of a still or sparkling water?  That's why I love to turn to the Fine Dining Waters Pack from Costco, which offers both sparkling and still water. I love how the Italian brands adds an elegant, classy element to our family dinner. Both S.Pellegrino and Acqua Panna single-serve glass bottles, can be found in the Fine Dining Waters Pack at Costco!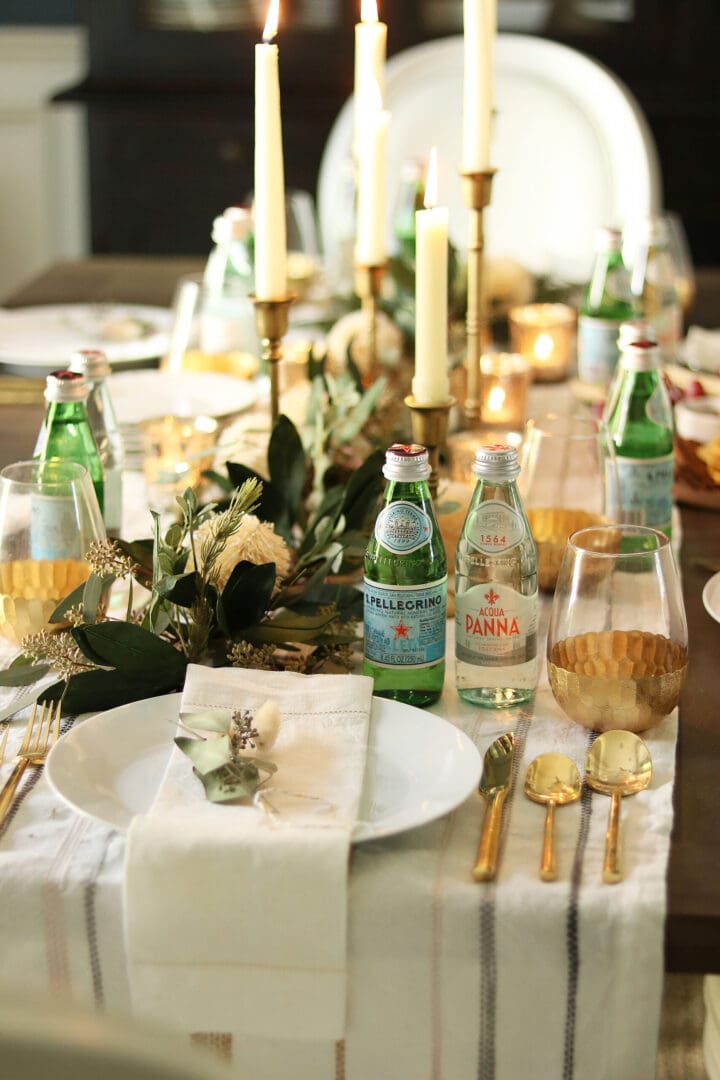 2.    Serve Appetizers, But Keep It Simple
Your kids will most certainly get hungry before appetizers are served, and dinner isn't ready for an hour. So something to snack on is super important! Create a beautiful (kid-friendly, depending on their age) charcuterie spread of cheese, meats, fruit, and crackers. The presentation is gorgeous, but the assembly is so easy! Since you're only serving family, you don't need an expensive board, even a cutting board works! I usually have three different kinds of cheese, so there's something for everyone to enjoy. For adults and older children, you could include brie, honey goat cheese, or hard cheddar.  For littler kids, string cheese, or their favorite cheese would be a great addition! Next, add a few varieties of meat, I like to include Italian dry salami, prosciutto, and peppered salami. But, you could keep it simple with ham, or turkey. Then I usually add three different flavors of crackers.  Along with fig jam and honey, I like to add texture with Italian olives and fresh and dried fruit. This is also a great way to gather your family to enjoy conversations and laughter. You can talk about what everyone's favorite part of the week was, or what their most looking forward to during the holidays. S.Pellegrino® Sparkling Natural Mineral Water complements the flavors of the meat and cheese with its crisp taste and gentle bubbles. Make sure to have plenty of lemons and limes available to add to Acqua Panna® Natural Spring Water if desired.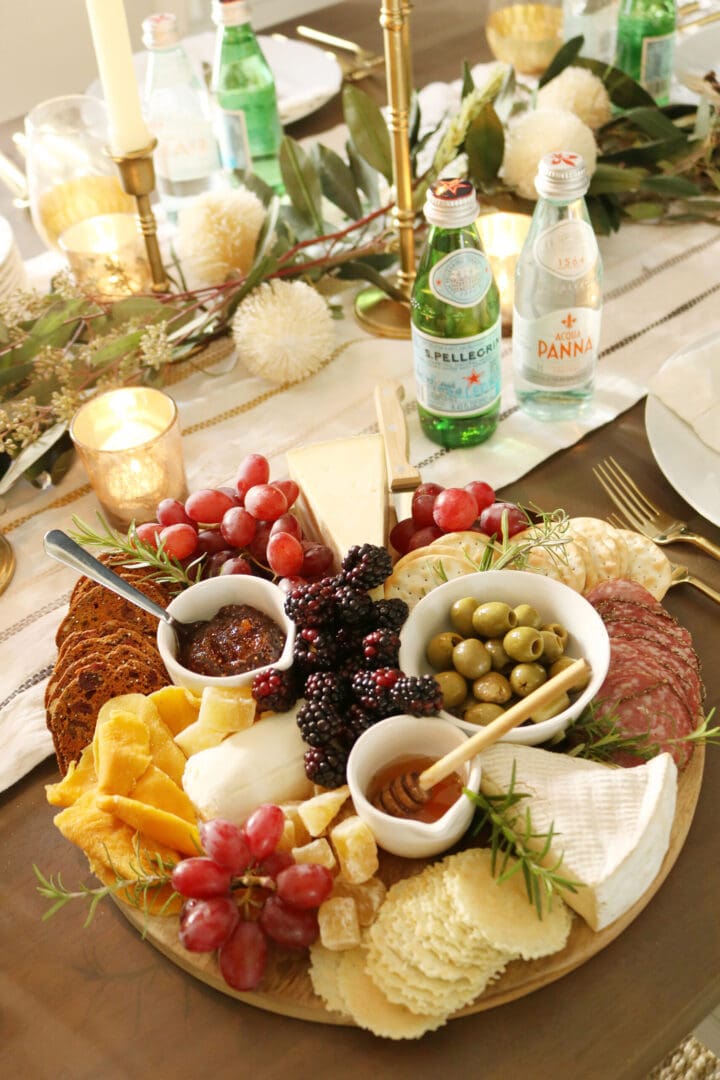 3.    Set the Atmosphere 
When setting the atmosphere, I like to think about all the senses—smell, taste, sight, touch, and sound.  Your home is probably already decorated for the holidays, but make sure it is clean of clutter, and the dinner table is set. Once your table is set, add the single-serving bottles of Acqua Panna and S.Pellegrino with each place setting. The Fine Dining Waters Pack is perfect for setting your table. The single-serve glass bottles bring the restaurant experience home and will surely impress your family.  Be sure to create a chill-tune playlist for background music, which will keep the conversation going and allows everyone to relax. Lighting is also important, so I love to dim the lights and burn taper candles on my dining table.  Last but not least, you want your home to have a pleasant smell so I like to burn scented candles in the bathroom and near the doorway.  For safety, I like to put my scented candles in a tall clear hurricane vase.  It not only protects the candle from being knocked over or accidentally burning anything, but it pulls the scented smell up into the air so it actually circulates better in your home.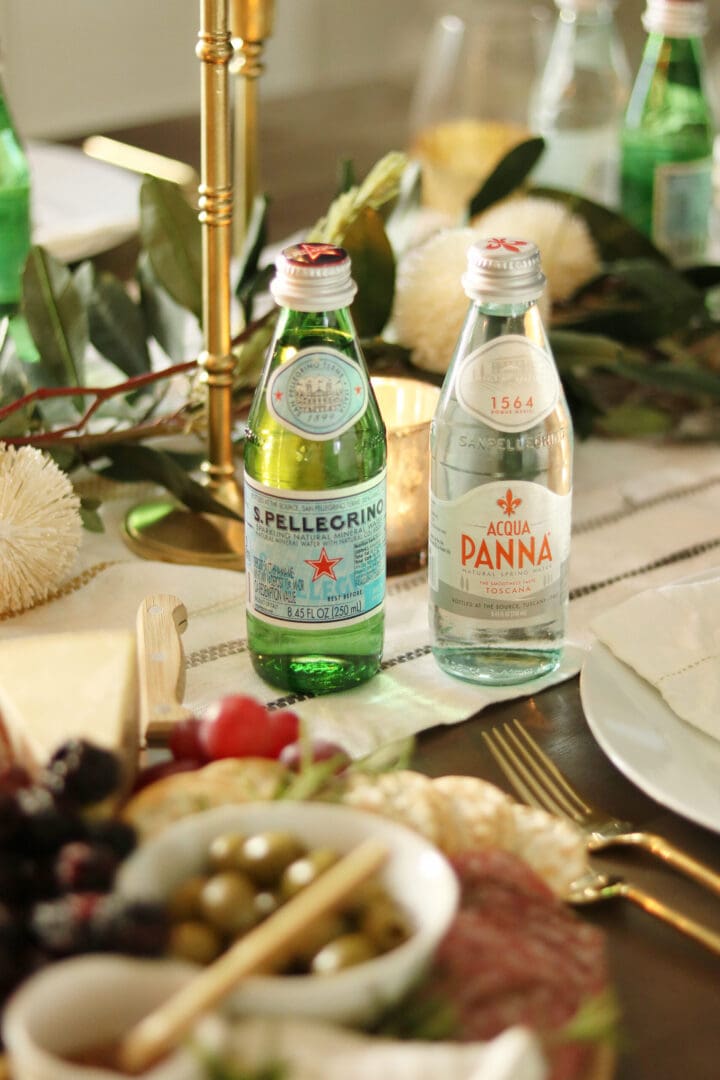 4.    Add Some Charm
I love all the many little details in a dinner party, like sweet touches on your table setting from name place cards on the plates to centerpieces on the tables.  Lately, I love to mix dried flowers with fresh greenery.  With this table, I added eucalyptus branches with dried bunny tail flowers and wrapped it in twine for the place settings. The centerpiece greenery is a faux magnolia branch along with fresh eucalyptus. I also love the charm and class that the S.Pellegrino® and Acqua Panna® bottles bring to my table.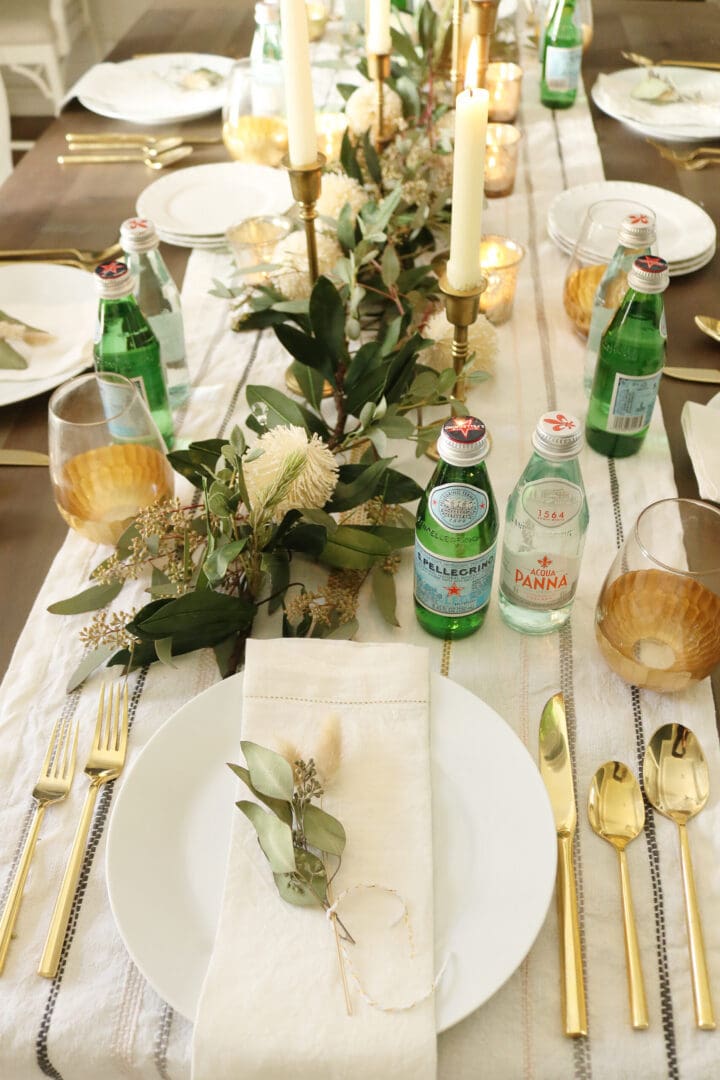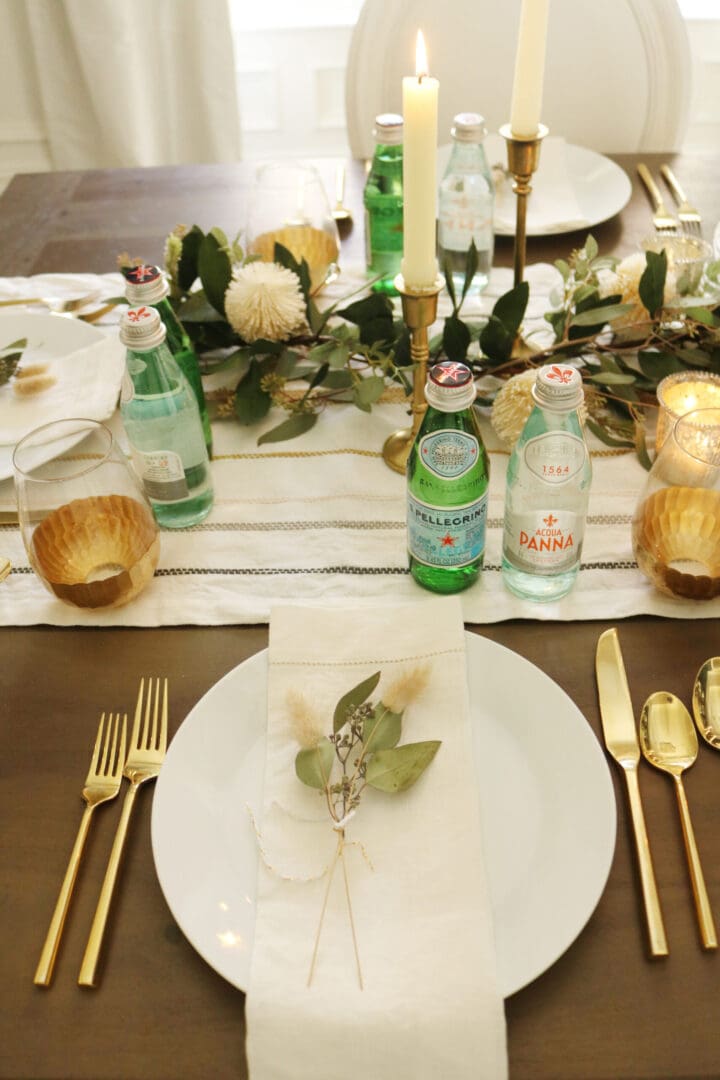 5.    Have Fun
Most importantly have fun! Your kids could take turns pretending to be the waiter or waitress, you can all play a fun, family game around the table but — most importantly, during these ever-changing times, it's about the memories and special moments made with the ones you care about most.   
Enjoy your own Fine Dining Waters Pack located at your local Costco!
The post 5 Ways to Bring the Restaurant Experience to Your Home appeared first on Darling Darleen | A Lifestyle Design Blog.