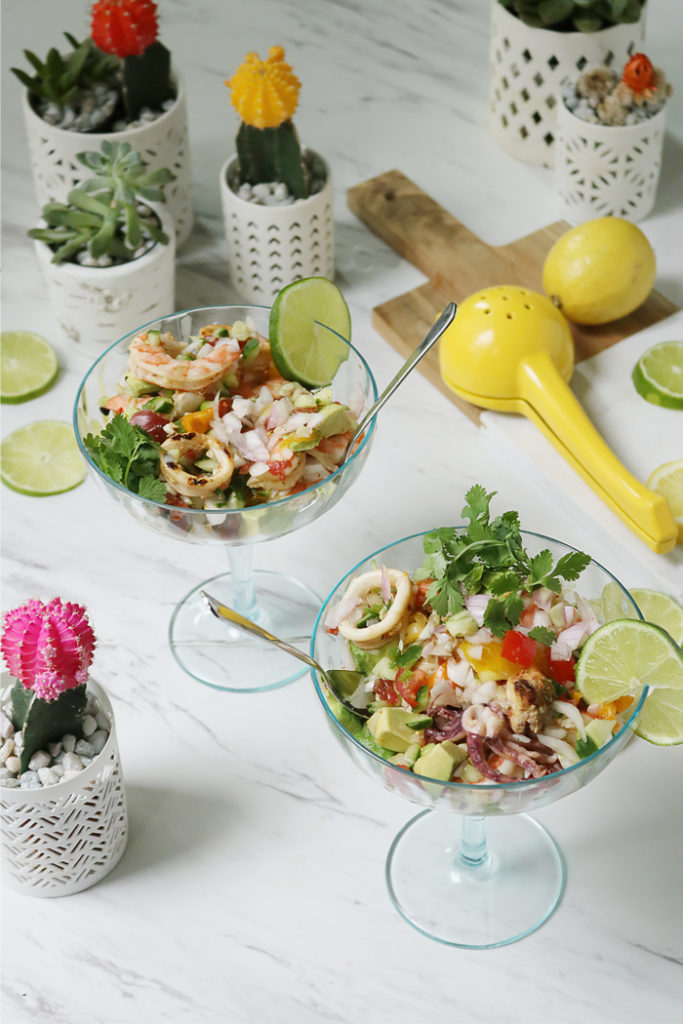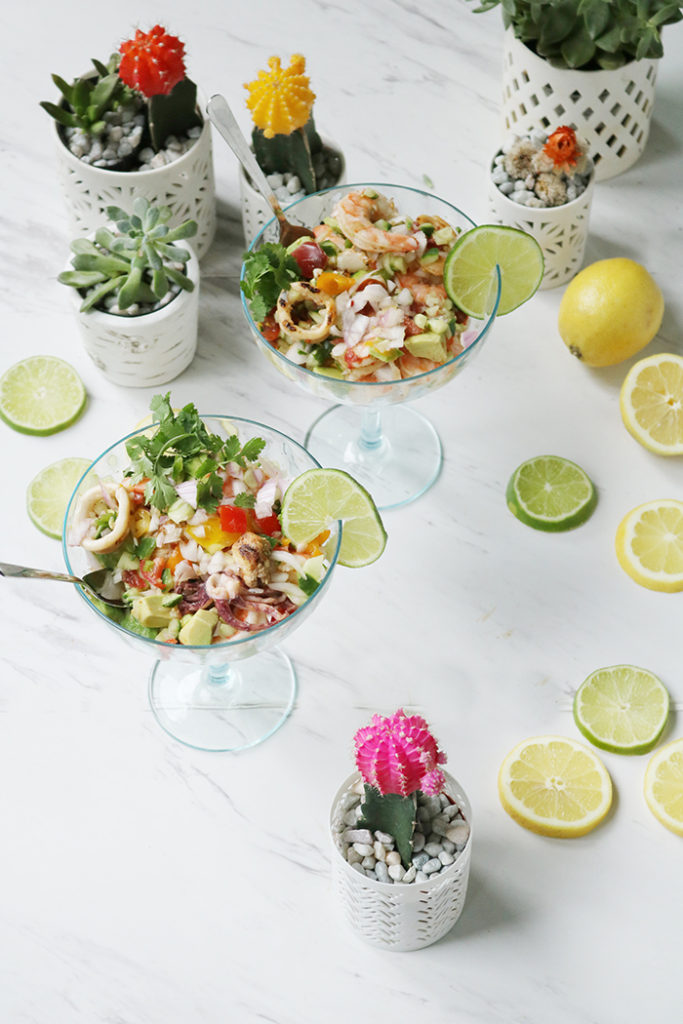 Seafood Mexican Ceviche
Happy Cinco de Mayo!  I am still on a Mexico high, and celebrating Cinco de Mayo as a family just seemed right!  When we were on our trip to Mexico, we ate so much seafood Mexican ceviche from one of the restaurants every day.  It was so fresh and had the best seasonings that I've been wanting to replicate the dish.  It is true!  Mexican food does taste so much better in Mexico!  Most ceviche dishes are made with just shrimp, but the seafood Mexican ceviche we had in Mexico had shrimp, scallops, fresh fish and calamari.  And then a little clam juice is poured on top of the ceviche to add a punch for the citrus flavors.  If you don't know what ceviche is, now is the time!  Ceviche is made from fresh seafood and or fish cured in citrus juices and the spiced with peppers.  Then you add vegetables and mix it all together.  It is fresh and the best part it is healthy!  The resort we stayed at while in Mexico had the best presentation for their Seafood Mexican ceviche.  Served in a tall glass with lime slices, and with the veggies and seafood it was so colorful.  For our family dinner, I decided to do the same presentation and my kids loved it and was daring enough to taste it.   So I guess I can say that this Seafood Mexican Ceviche recipe is kid approved!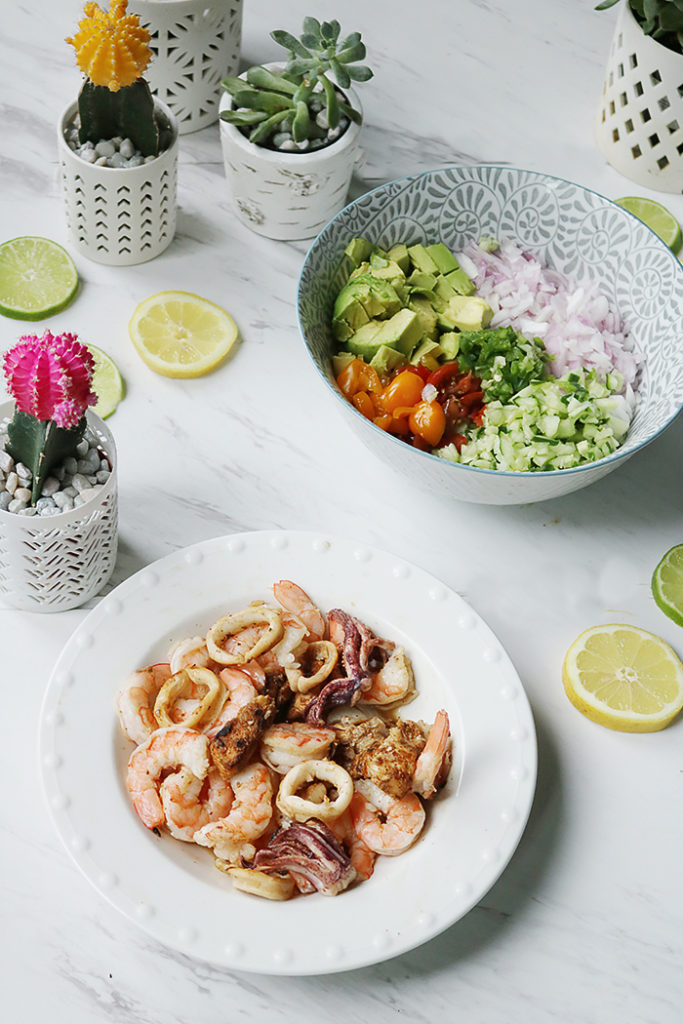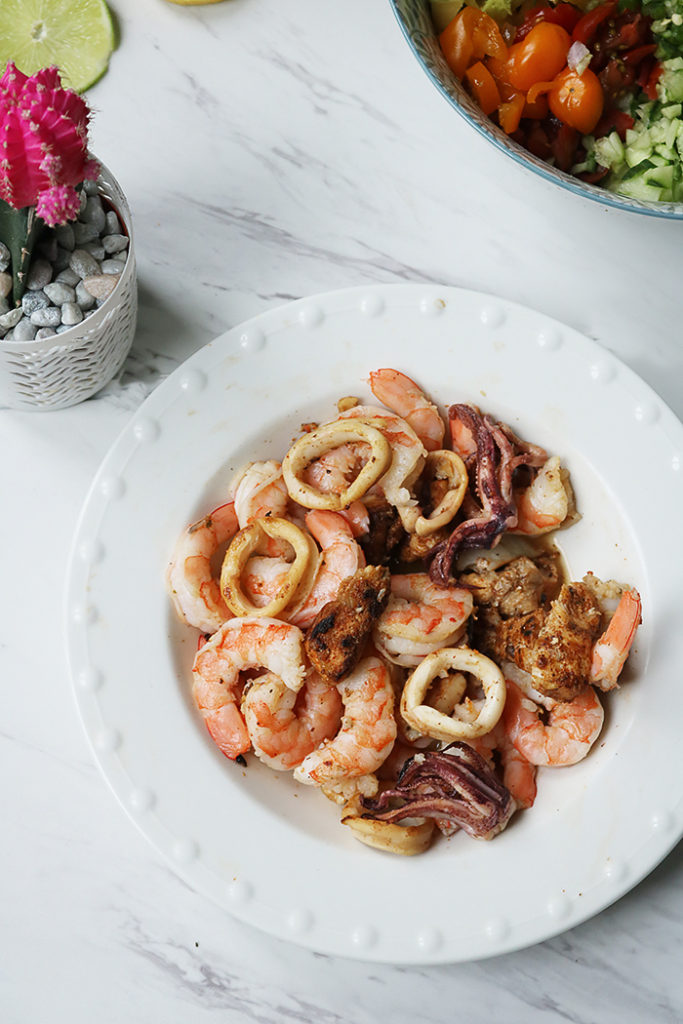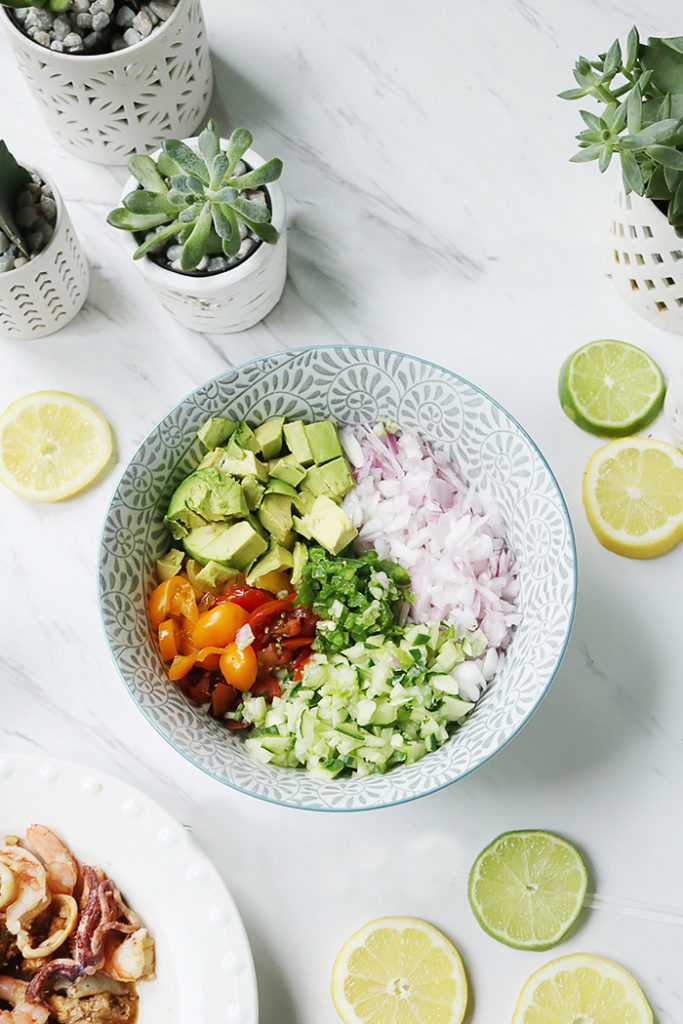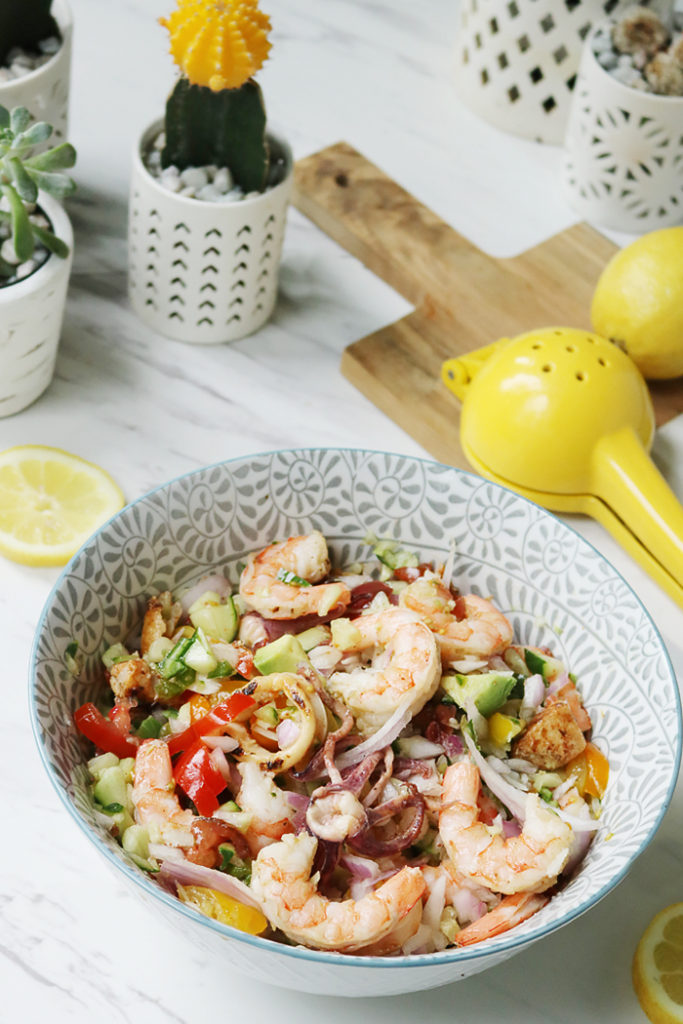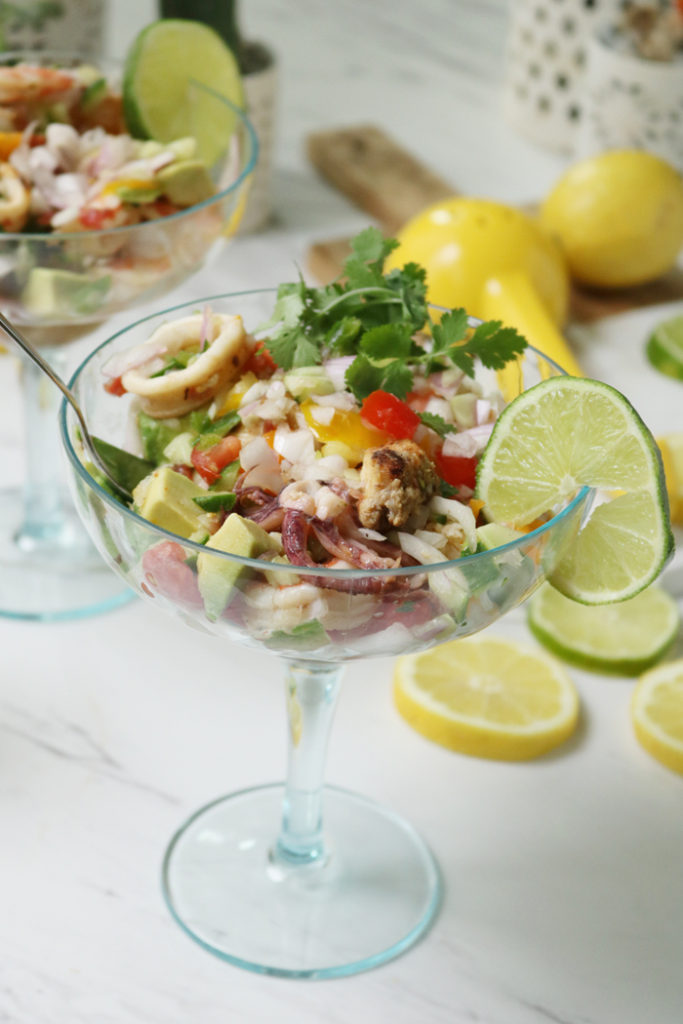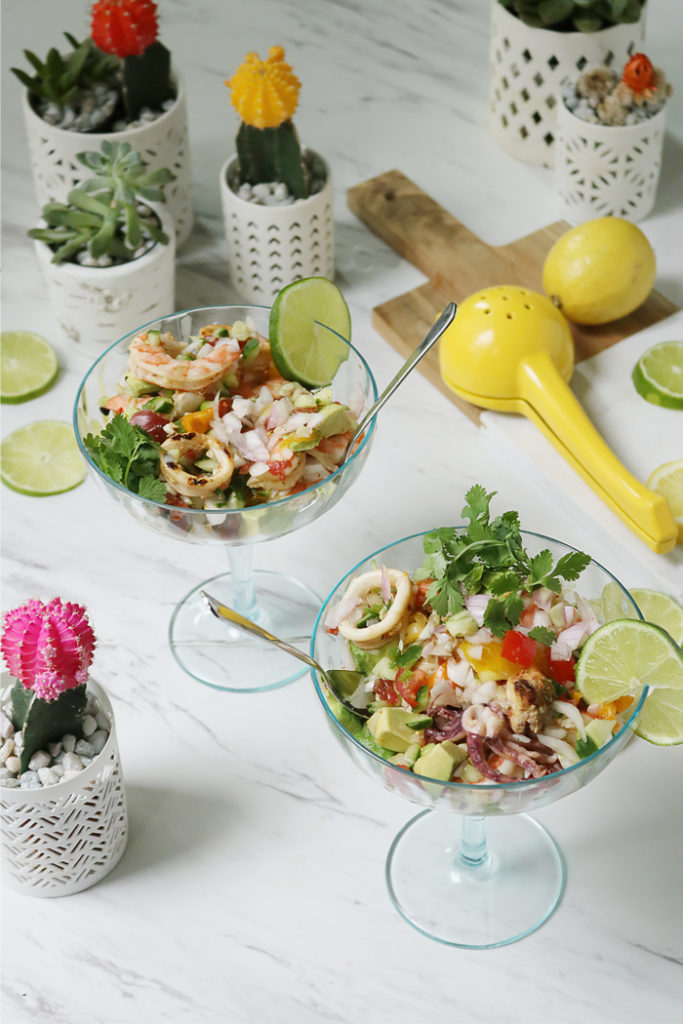 Seafood Mexican Ceviche
Ingredients
1/2 lb of shrimp
1/2 lb of fresh fish
1/4 lb of scallops and/or calamari and/or scallops
4 limes, juiced
3 lemons, juiced
1 red onion, chopped
1 cucumber peeled and chopped
1/2 cup of medley cherry tomatoes, chopped.
1 jalapeno pepper, seeded and chopped
1 avocado
1 bunch of cilantro
1 tablespoon of olive oil
Salt and Pepper
Favorite Seafood seasoning
red clam juice (optional)
Directions: 
In a large bowl, gently toss the seafood and fish with the lime and lemon juices and your favorite seafood seasoning.  Cover the bowl and chill for 1-2 hours in the refrigerator.  If you are in a hurry, you can stir fry it on the stove top, squeezing some of the lime and lemon juice on it.  But its best to have the citrus juice marinate the seafood.
While your seafood is curing, mix together your veggies–onion, cucumbers, tomato, avocado, jalapeno, cilantro with the olive oil, salt and pepper.  Then once your seafood is done curing, mix the seafood mixture and veggie mixture together.  Serve in tall margarita glass.  Garnish with lime slice.  Then pour a little bit of clam juice on top. Enjoy!

The post Seafood Mexican Ceviche appeared first on Darling Darleen | A Lifestyle Design Blog.