Here's the last but not least of this year's Valentines!  These valentine's are really easy and fast to make.  For my littlest guy, who is apart of joy school this year, we made paper airplanes because they are fun to fly and I was running out of time!  These valentines were thrown together at the last minute and items came from around the house–red paper, heart stickers, red baker's twine, large clear adhesive dots (to secure the airplane from coming apart).  I enlisted my hubby to help and he made the airplanes.  I secured it with adhesive dots, attached some baker's twine to the plane and a little tag.  Took a black pen and wrote "valentine, you are PLANE awesome!" and on the tag "love, jackson".  My plan was to attach some lollipops to the top of the plane but didn't have any left over from the Valentine candy I had bought, so the kids instead got a little bag of random gummy valentine candies.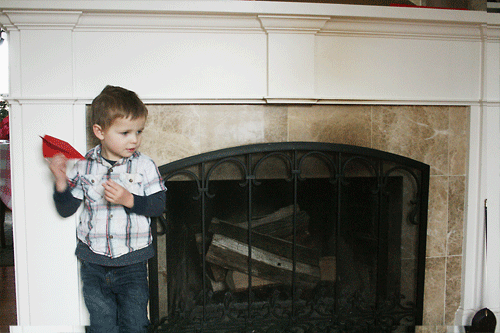 see how our fireplace is loaded up with wood?  we have one almost every night during winter.
The post Paper Plane Valentines appeared first on Darling Darleen | A Lifestyle Design Blog.