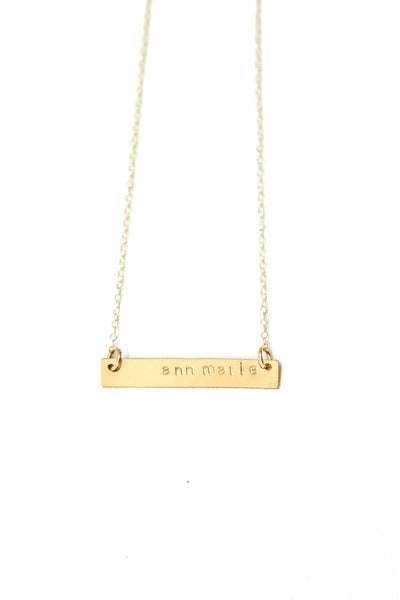 Stamped Gold Bar Necklace
Stamped Gold Bar Necklace with name.  A sleek 14K gold-filled bar adds modern personalized to any look. Whether it's your name, word, children's initials or lucky numbers, this necklace will fit perfectly in your daily rotation. Gold-filled wears like gold. Layer it with other personalized necklaces.
Any combination of letters, numbers, or symbols (e.g., !, @, #, $, ❤, ★) is available.
The maximum character count is 12 characters.
Characters are right-centered, unless noted.
Chain length available in 16, 18 or 20". Bar measures .25"H x 1.5" L Usually ships in 5 to 7 business days. All custom pieces are non-returnable and non-refundable.
Stamped bar necklace: dmj3124