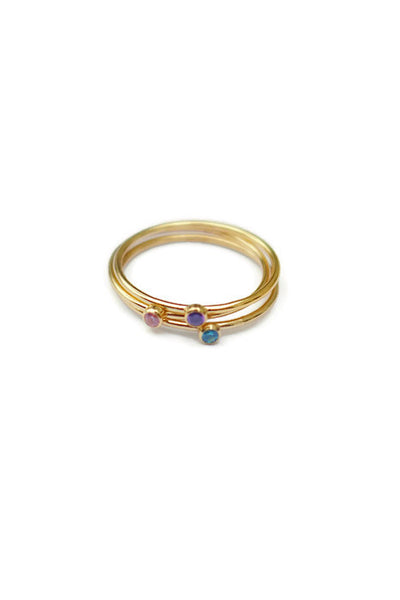 Birthstone Stacking Dainty Rings
These 14K gold fill stacking rings make for a great personalized gift. The birthstone rings features a tiny colored cubic zirconia in the color of the month. Stack several of these rings together, allowing the stone embellishment to overlap other ring bands or mix with other styles of stacking rings to create a unique expression of your individual aesthetic. 
1mm ring band
2 mm cubic zirconia stone
Usually ships in 5 to 7 business days.
1. Red Garnet (January)
2. Purple Amethyst (February)
3. Light Blue Aquamarine (March)
4. Clear Diamond (April)
5. Green Emerald (May)
6. Light Purple Alexandrite (June)
7. Red Ruby (July)
8. Light Green Peridot (August)
9. Blue Sapphire (September)
10. Pink Tourmaline (October)
11. Yellow Citrine (November)
12. Blue Topaz (December)