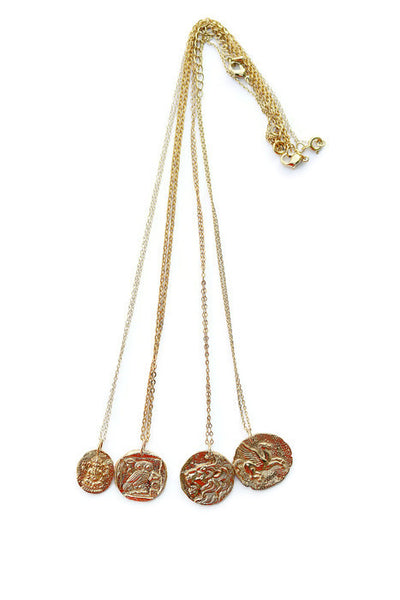 Ancient Greek Coin Charm Necklaces
Natural Bronze Ancient Greek Coin Charm Necklaces.  Each coin has a symbolic characteristic meaning.  Replica of Ancient Greek coins.  
Lion: revolve around strength, leadership, and protection. Viewed as symbols of royalty, they are often depicted as an emblem of sovereigns, and as guardians of palaces, doorways, shrines, and thrones. 
Pegasus: the mighty winged horse of Greek mythology. According to legend, Pegasus sprang forth from drops of blood when Perseus cut off Medusa's head. Together horse and hero slew fire-breathing monsters and performed other heroic deeds. Pegasus has become a symbol of power, stability, imagination, and soaring to great heights of accomplishment.
Athena's Owl: In Greek mythology, Athena is the goddess of war, wisdom, strength, crafts, justice and skill. In Homeric poetry, Athena's most common epithet translates to "bright-eyed" or "with gleaming eyes," much like an owl. Many scholars argue that Athena is the owl herself - she is wisdom.
Griffin: The griffin combines the symbolic qualities of the lion and the eagle. It is the king of birds, and the king of beasts. Griffins represent the sun, wisdom, vengeance, strength, and salvation.
Ganesh: Ganesh is generally known as the Lord of Beginnings or Obstacles. He is the patron of arts and sciences, and is the God of intellect and wisdom. He is known to help remove obstacles from life's path, and is also associated with placing obstacles as a means of learning and growth. With his distinct and wondrous appearance, this Ganesh coin will be an excellent reminder to honor the life road we travel everyday.
Goldfilled chain 
SKU: dmjcoin